Hair transplant pune costs, procedure and time guideline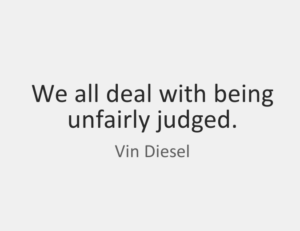 In today's face paced society where people make quick and intuitive decisions about almost everything based on appearances.. "Looks do matter!!!" is the statement that will stand true for almost all industries form product packaging, shopping, eCommerce and even up to your personal life...
Your appearance; that is " How you look" has a significant influence on your confidence level. 
This is unfair … but true "Your looks do matter" at each and every layer in your life.
People do make quick assumptions about you based on your appearance
and your appearance certainly has some impact on
Your professional life

Your social life

And even personal life up to certain extent
When talking about appearance and looks on personal level, most common problem with youth and adults is Hair loss and baldness!!!
are you missing your perfect look due to hair loss?
You must have searched online and discussed with your networks about the natural ways to grow hairs or tries all possible ways to get the Results!!! And probably it does not worked out well enough,
so you are here hoping to find out whether this Hair transplant thing… really works ? 
And you might have many questions popping up about it like:
Is hair transplant safe?

What is cost of hair transplant ?

Is the hair transplant surgery painful ?

Will hair grow permanently?

What after hair plantation surgery?

What if hairfall continues

Are there any side effects of hair transplant ?

Is it really worth the investment?

Can we grow hairs without surgery?
All fair questions and lets see one by one..
By definition "It's a type of surgery that moves hair you already have to fill an area with thin or no hair". In other words
"Hair transplant or transplantation is a surgical technique that moves hair follicles from a part of the body called the 'donor site' to a bald or balding part of the body known as the 'recipient site'. Where hair loss is occurring"
Since hair naturally grows in groupings of 1 to 4 hairs, current techniques harvest and transplant hair "follicular units" in their natural groupings. Thus modern hair transplantation can achieve a natural appearance by mimicking original hair orientation. This hair transplant procedure is called follicular unit transplantation (FUT).
Donor hair can be harvested in two different ways: strip harvesting, and follicular unit extraction (FUE). FUE takes place in a single long session or multiple small sessions. The FUE procedure is more time consuming than strip surgery. FUE can give very natural results. The advantage over strip harvesting is that FUE harvesting negates the need for large areas of scalp tissue to be harvested, so there is no linear incision on the back of the head and it doesn't leave a linear scar.
FUT or FUE how to select right hair transplant?
Advantages of FUT method
Larger areas of baldness can be covered in fewer sessions

The resection rate may be lesser providing superior results
Who should opt for FUT method?
who have larger areas of baldness and would like it covered in single session

who don't mind cuts, stitches, longer recovery period
Advantages of FUE method
there are no cuts or stitches

The recovery time is much quicker as you can often returning to work the next day itself

There is no linear scar
Who should go in for FUE method?
Suitable for people who have smaller areas of baldness

who want to wear shorter hair styles

who prefer less invasive procedures and don't want cuts, stitches on the scalp.

Those who want faster recovery
There are different techniques for harvesting hair follicles, each with their own advantages and disadvantages. So ideally it is best to get advice from experts and hair transplant specialist.
Just click photo of hair loss area and get cost estimate for hair transplant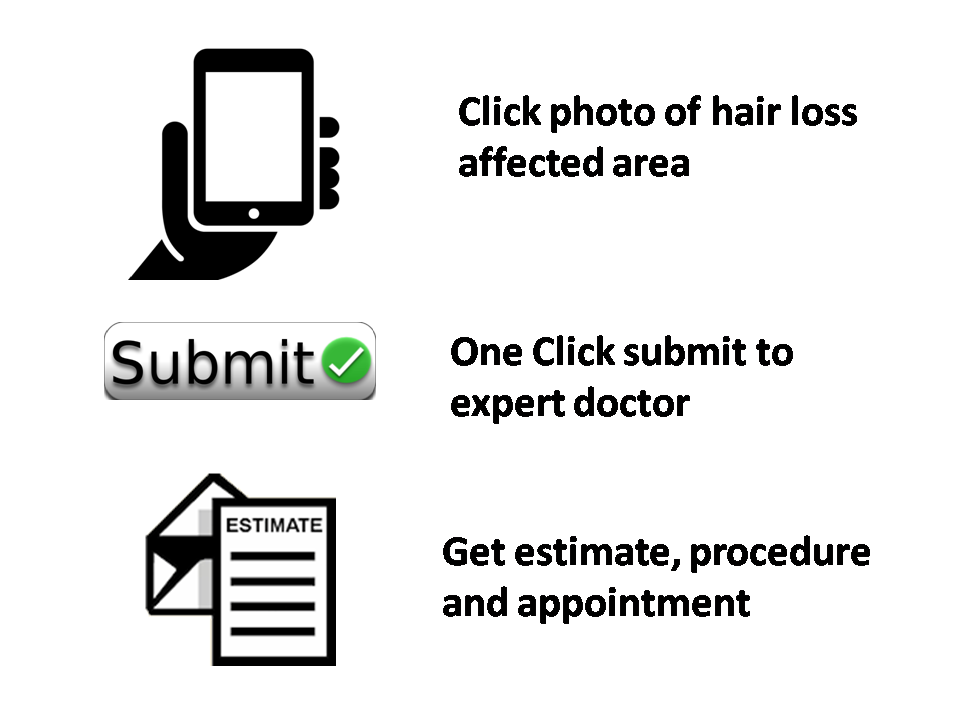 Getting the right advice and a cost estimate to get your original look with hairs is becoming easier as you can just submit your photos of hair loss areas taken from your mobile phone and within few hours experts will be calling you to discuss about how to proceed and costs involved in getting hair transplant surgery (if at all needed)
Get estimate about your hair loss treatment and hair transplant here
Cost of hair transplant surgery in pune 
The price of a hair transplant will depend largely on the amount of hair you're moving, but it generally ranges from 60,000 to 1,30,000 rupees. And most of the experts do have part payment or EMI payment options too.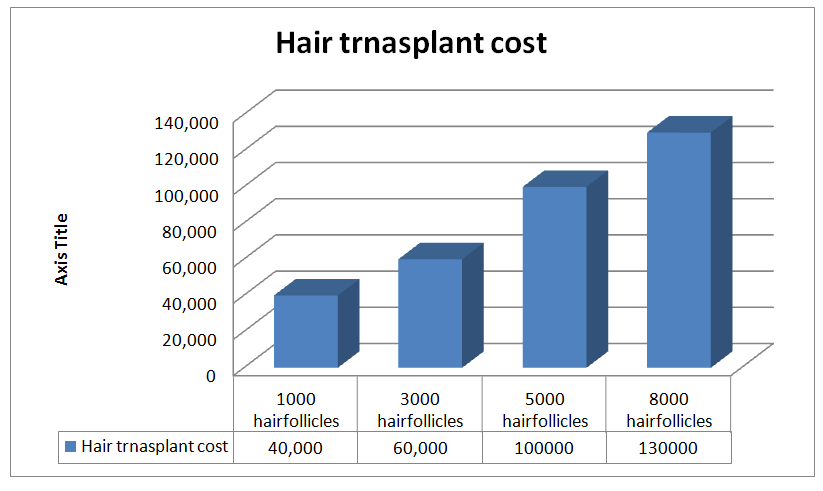 Hair Transplant cost as a "package"
2000 grafts =INR 70,000/-

3000 grafts = INR 1,00,000/-

4500 grafts = INR150,000/-
What are the advantages?
your hair will look natural.

transplanted will be permanent

The donor area hair will grow back

Transplanted hairs have good strength that can handle routine life activities

You can do hairstyles as desired, no limitations
The cost of hair transplant depends on:
The number of hair follicles that are being grafted and transplanted

The actual area of the scalp which will undergo the transplant

Whether you are undergoing single or multiple transplants
How many hair transplant sessions / surgeries will I need?
This depend on following factors:
the extent of your hair loss
the rate at which you lose hairs
the amount of donor hair you can give
and other medical and appearance factors
In general in about 2 hair plantation procedures you get expected results where, thousands of hairs are transplanted in follicular units.
What are the risks or side effects of hair transplant?
This is just like any other surgery in medical field, you may develop some risks of infection, some people have inflammation or an infection of the hair follicles, called folliculitis. Antibiotics and compresses can relieve the problem.
Can I grow hairs naturally? without surgery ?
ohh yes !!! That is what we specialize in, it is called ADHI Treatment:
Advanced Development in Hair Implantation (This does not require any surgery) 
Advanced Development in Hair Implantation is non surgical technique for hair restoration, i.e. FUE technique for those who are really afraid about cuts, stitches, scars, pain or bleeding caused by blades and knives. The treatment at ADHI achieve good results and that too at a very cost effective price.
as explained above follicular unit extraction FUE technique is used in getting a solution for permanent hair restoration that aids in the re-growth of hair in the affected area. Latest equipments combined with some best innovative methods are used to treat the follicular units without disturbing the hair roots which are then precisely harvested. These harvested follicular units that occur naturally are then stored in a special solution to maintain its feasibility and integrity till they are implanted in the bald area. This implantation is done without any scrape and directly into the bald area.

This treatment is has significant success rate and the result would be permanent, extremely natural and that too without any marks or distortion.
Here are some of the Advantages of ADHI Treatment:
Obvious benefits like almost naturally grown hairs:

Better appearance with grown hairs in bald areas

Permanent hairs

Improves some psychological aspects of patient like self esteem and confidence level about appearance

This happens without surgery and at affordable cost
What will happen in my first visit to hair transplant doctor?
Generally you have already communicated your hair loss problems at the time of taking appointment on phone and also sent picture to get the approximate costs required to compete hair transplantation. click here to submit your requirement.
First visit to doctor:
The doctor examines the hair loss affected area

discuss your relevant medical history

put into writing your hair transplant design

estimated timeline required for any procedures

estimated costs for entire process

doctor explains the entire hair transplant procedure

give detailed overview on associated risks and tell you what you can expect in the months following the procedure
how much time required to see full results of hair transplant?
After a successful hair transplant surgery, hairs will continue to grow for a lifetime.
First 2-5 weeks: the transplanted hairs will shed
3 to 8 months: hairs will start to grow
10 to 12 months: see the complete results
Is a hair transplant painful?
Hair transplant surgery is much less painful now, than it was in earlier times. The procedure itself is rendered painless by administration of local anaesthetics. The patient can go back home the same day. In the strip FUHT method, pain killers are usually required for 5 to 6 days to reduce the pain due to the stitches in the scalp area.
How can I get My perfect hairs ? where to start?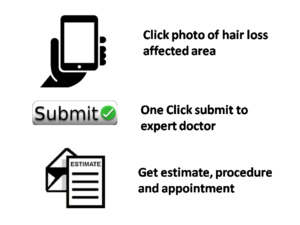 well many time you might not need a hair transplant surgery and your hair loss or baldness can be covered by medicines only.
the best advice would be to discuss it with hair transplant doctor. its super easy to communicate your exact problem and get a cost and procedure estimate about your problem as you can submit your photo here and get quick estimate of what is the procedure and costs going to be to solve your hair problems.
May god bless you with good health !!!

Dr. Nitin Jain MBBS , MD - Dermatology , DNB (Plastic Surgery) , DDV , F.C.P.S.(Dermatology, Venereology & Leprosy) Dermatologist , Dermatosurgeon , 15 Years Experience as skin specialist and in Hair transplant surgeries

Latest posts by Dr. Nitin Jain (see all)