Skin Glow comes from good care of skin. Here's how to get it.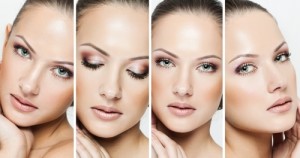 Use a Toner. 
After you cleanse your skin, making use of a toner is suggested.  If you apply moisturizer and other products to dewy skin, they are more likely to latch on and act faster.  Not only does toner bond products to your skin, but it evens the skins
Apply a highlighter.
For a glow at night, never leave the house without a highlighter. A perfect sweep across the top of the cheek bones, on the cupids bow and where the sun might naturally hit will have you looking great without glowing like a disco ball. 
Exfoliation! 
The answer to most skincare problems, if you exfoliate your skin you will see results almost immediately.  Application of your makeup after adding exfoliation into your skincare routine is so much easier and makes your skin work with the makeup so it glows naturally.
Try a good primer. 
Although it's not absolutely necessary, we like to take the easier steps to make our face have a summery glow.  This step doesn't require a treatment or a 15 minute mask; it's simply one extra step in your daily makeup routine.  Priming your face before foundation allows the formula to work with the primer and your face at the same time, making application smooth.  Wear the primer alone for a simple glow. 
Try a resurfacing mask.
We know that applying tons of products to our face on the daily is never a good thing, that's why we feel like it's important to have one product on our list that we can use once per week. 
Milk and Honey Mask.
We've all heard of different types of masks that promote moisturizing, pore unclogging and more but one that works for brightening would have to be the classic milk and honey mask.  One egg white and 1 tbsp of honey is all it takes to make a mask that will have your skin glowing using two pretty natural ingredients.
Choose a cleanser with brightening elements.
if your skincare routine works together, your skin will thank you and that's why it's better to choose a cleanser with brightening elements in its formula. 
Drink water and eat clean.
The more water you drink the more regular the toxins will flow out of your body.  The cleaner your eat, the less toxins will enter your body.  The easiest way to clear your skin and brighten your complexion is to treat it well.
Hair loss

Hair treatment

Wrinkles

Spots on skin

Pimples

Dr. Nitin Jain MBBS , MD - Dermatology , DNB (Plastic Surgery) , DDV , F.C.P.S.(Dermatology, Venereology & Leprosy) Dermatologist , Dermatosurgeon , 15 Years Experience as skin specialist and in Hair transplant surgeries

Latest posts by Dr. Nitin Jain (see all)